Anapur
Food made by nature
About Anapur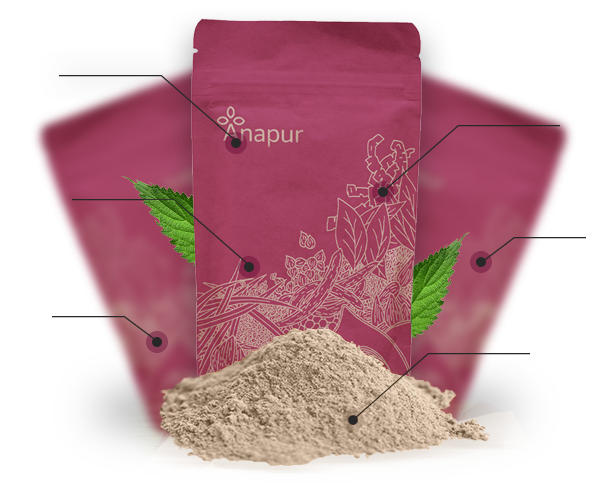 Balanced meal which provides your body with the optimal amount of all nutrients
Simply mix the powder with water and within one minute your Anapur meal is ready!
We don't add any artificial stuff, nor synthetic vitamins or GMO
Made in EU (Czech Republic) and contains ingredients from all around the world
100% vegan, made of purely veggie ingredients
Annapurna is a Hindu goddess of nourishment. And that's exactly what Anapur is about.
Laboratory tested

Perfectly balanced

Simple and fast

Affordable

From all-natural ingredients

Tasty cocktail
without substitutes and available
Without
GMO

Without Maltodextrin

Without synthetic vitamins

Without artificial flavorings

Without added preservatives

Without
lactose
It consists of the best natural ingredients
Price of one portion with a caloric value of 440 kcal
2 €

Anapur
3 €

BigMac
7 €

Spaghetti Bolognese
10 €

Caesar salad
Preparation
Pour Anapur
into the shaker
Add water
or milk
Shake well
Enjoy your
nutritious cocktail
Our ambassadors
Vendula Hopjakova / Boardercross olympic athlete
A rising star of the Czech Snowboard Cross, who also participated in 2018 Winter Olympics in Pchjongchang. Twice in a row, she won the Czech Cup in snowboard cross and she succeeded also at the European and World Cups.
"I spend a lot of time on the road and in hills where a good diet is difficult to maintain. Anapur provides me a convenient solution with the fitting nutritional values."
Rostislav Vitek / Long-distance Olympic swimmer
Long-distance swimmer, multiple champion of the Czech Republic and Olympic athlete from 2008 Summer Olympics in Beijing. He holds a Czech record in crossing the La Manche Canal. In 2017, he broke another record in a relay-race at Lake Loch Ness.
"Anapur's recipe without any chemicals suits me the best. It doesn't burden my organism and I can fully concentrate on the performance of my body."
Marek Jelinek / Traveller, Photographer
Marek travelled thousands of kilometres through South America on his red scooter. In 2018 he travelled through another continent. Asia. From New Delhi to Singapore, a 9,000-kilometer journey. On his journeys, he overcame both long distances and himself. On his journeys, he enjoys the atmosphere and captures it through his camera.
"I need something nutritious and convenient on my way. Anapur is, therefore, the perfect combination for my adventures. "
Tomas Hudec / Runner
Tomas loves running in the mountains all around the world. He had the chance to race in slums, rainforests, at night in tropical rains or at 4500 m altitude. He won the Nepal International Marathon, and he also placed well at the Italian Championship.
"Anapur helps me fulfil my nutritional needs and, above all, it's quality and ingredients are outstanding compared to what is on the market!"